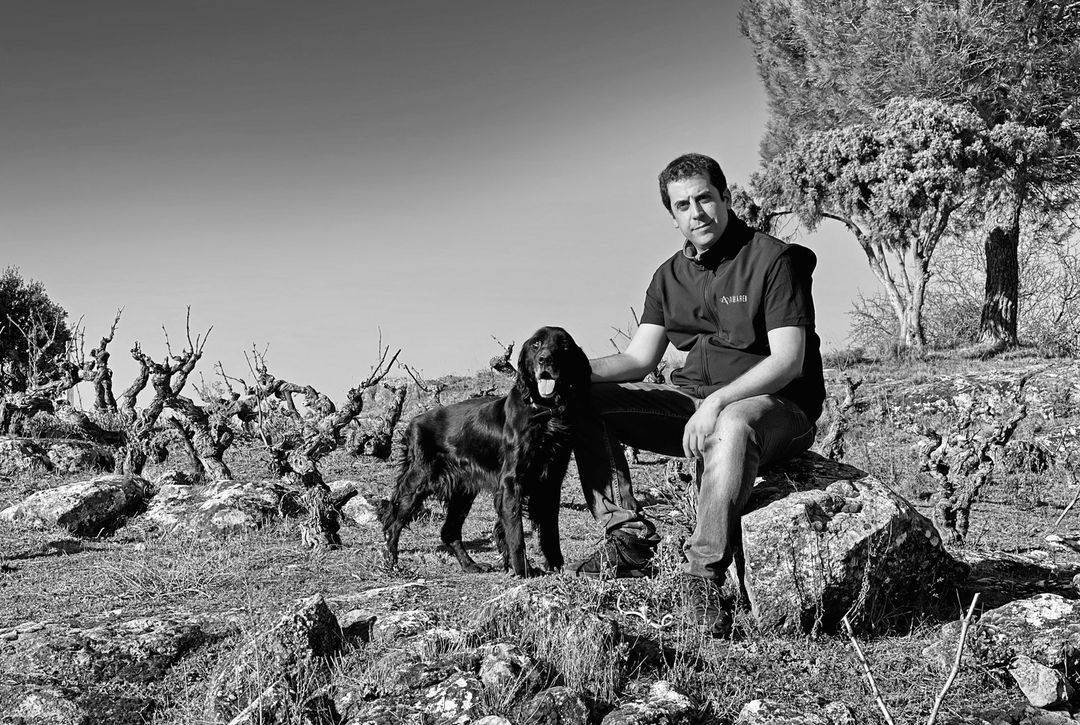 Alliance Wine Rioja producers shine in this years' Tim Atkin and Decanter Rioja Reports
Both Tim Atkin MW and Decanter have recently released their 2023 Rioja reports, where our Rioja producers have received so many fantastic scores for their wines. We are humbled and so proud of the success of our Rioja portfolio showing the strength of all our producers' work.
Rubén Jiménez, the director of viticulture at Bodegas Amaren and Luis Cañas, has been named Grower of the Year by Tim Atkin. Rubén has been doing some fascinating work identifying different minority grapes in Amaren's extensive vineyards in Rioja Alavesa. So far, he has identified 40 varieties, with another 10 yet to be identified. His research has also thrown up some intriguing finds, including Cabernet Sauvignon, Malbec, and Verdejo in a parcel planted in Leza town in 1912.
"Phylloxera was a catastrophe, so people planted anything and everything once it wasover," says Jiménez. He started with vinification of 36 vines of Benedicto (the mother of Tempranillo), arguably the most historic Rioja grape of all, and is now up to 800. It ripens a week after Tempranillo and is much fresher with a pH that is 0.1 to 0.2 lower. It also has a lot of personality - tangy, peppery, and intense, with flavours that owe something to Mencía and Syrah. Tim Atkin was impressed by Cadrete, Julén, Malpuesta, Mandón, and Morate, but the best was Benedicto. The research Rubén is doing are vital in Amaren's plans for the future – planting varieties that can survive and thrive despite climatic changes.
Abel Mendoza, one of the top wine producers of Rioja Alta, has retained his position at the top of Tim's First Growth list, with three of his whites making it into Tim's 'Wines of the Year' with scores of 95.
Abel Mendoza's Viura is a "misunderstood variety," and he believes it is capable of greatness. Their 5 V Genérico 2021, Viura Genérico 2021, and Torrontés Genérico 2021, all scored 95, while his Garnacha Blanca Genérico 2021 scored 94, Malvasía Blanca Genérico 2021 and Tempranillo Blanco Genérico 2021 both scored 93.
"Abel's white wines are indeed stand out wines for Rioja but Abel's skills do extend to his red wines as well." – adds Paul Shinnie, buyer for Spain and Portugal. Gracino Grano a Grano 2019, Tempranillo Grano a Grano 2019 and Selección Personal Genérico 2019 all scored 93 and Jarrarte Vino Joven Genérico 2021 scored 91.
Luis Cañas, Amaren, Manzanos, and deAlto have also featured on Tim's list, with their wines receiving scores ranging from 89 to 94. Luis Cañas' El Palacio 2019, Selección de la Familia 2017, Gran Reserva 2016, and Reserva 2016 scored 92 and 91, respectively. Their Crianza 2019 and Blanco Viñas Viejas 2021 both scored 91. Amaren's Amaren Malvasía 2019 scored 94, followed by Cristo de Samaniego 2020 and Amaren Blanco 2020, both scoring 93. Angeles de Amaren 2019 and Amaren Selección de Viñedos 2020 both scored 92, while Amaren 60 Reserva 2015 scored 91.
Decanter's 2023 Rioja Report also puts Amaren, Luis Cañas and Abel Mendoza in the spotlight when featuring the potential of Rioja Alavesa with some of their wines scoring 93 to 96 points. This special report also highlights deAlto's La Planta Magica Vinas Viejas 2019 with 94 points, a bright and polished Garnacha with fine oak, Abel Mendoza's Seleccion Personal 2018 gets 92 points, Bodegas Manzanos's Voche Vino de Autor 2001 was awarded 93 points – "Piquant notes of strawberry, confiture, spice, pencil and dry, meaty fruit. Smooth, integrated tannins with a pure and long finish". Manzanos's Gran Reserva 2013 had 91 points and so did Luis Canas's Seleccion de la Familia 2016.
For a selection of all our award winning wines, visit here.